There was a time when facebook messenger doesn't exist like now. For all type of conversation people have to emails, but there the only fallacy in using emails is conversation couldn't be more rapid as of today. To solve this problem the tech giant Google introduce an application called Google Talk in the year 2005. In the beginning it was integrate in the gmail itself for convenience of the users.
It was initially it was just launched as a texting platform for the users but due to its ever increasing popularity Google has to redesign the idea behind the Google Talk and launched a application called Hangouts in 2013.
Google Talk got so much attention that fans are referring it to as "G-chat" but Hangouts quickly got synced with people needs that people started to use Hangouts which has lot of new features which Google Talks doesn't have.
But as the reports came in, Google is requesting all the users of G-chat to migrate all the data to Hangouts as soon as possible.
Since the launch of hangouts users base of G-chat has exponentially fallen down so, from the business point of view Google is killing the application.
So, if of the people who still are using Google Talk, don't worry all the contacts can be easily transferred to Hangouts and also it it pretty much similar to G-chat with much more features like file sharing, gif supported interface etc.
A Hangout Window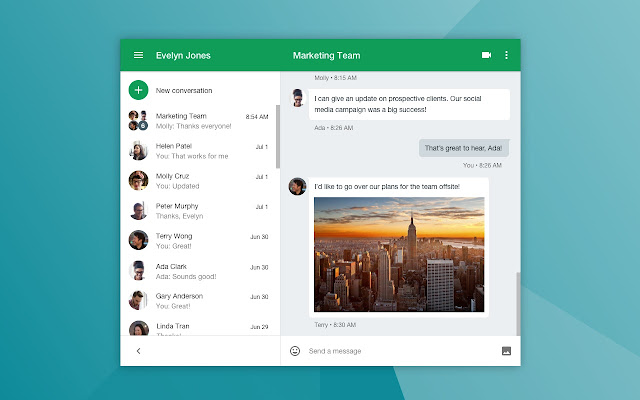 Google Talk Window
As a user of both the application I can say that surface design of both the apps varies a little over the sidebar section of the application. Also after the deadline Google talk app will be taken down from Google playstore and users will be directed to download the Hangout App.
In their official blog Google laid down all the upgradation that Hangouts have been blessed with over Google Talk.
All the users of Hangouts will definitely know these improvements over Google Talks such as Video calling feature, GIF supported interface and also integration with all other Google products and also along with hangout Chat and Hangout Meet there is no room left of improvements for Google Talk.
All the users of Google talk will soon get a prompt in their mail to switch to Hangouts or after they will be automatically ported to Hangouts after the deadline. Google has also added a new feature in Hangouts for convenience of users which will help the users to make the interface of Hangouts exactly like Google Talks with a tap of a button.
And if your folks still not satisfied with that option, there is a still lot of apps like Android messenger, Allo etc to bring to use.
So what to think about this major change ? Have you ever use Hangouts or any similar app from google and what was your experience ? Do let us know in the comments below.