Slowly Facebook has pivoted from just a regular social media platform to a collection of useful services for the larger part of the netizens. Last year Facebook took a series of an impactful decision and launched a new feature called Nearby Friends. This feature lets users of the official Facebook app find out their friend's location with their permission. Recently, Facebook is also letting you make payments through Facebook Messenger.
Have you ever thought why year after year Facebook is making new data centers? It's because that it keeps an archive of each and everything you have shared on their social media, even all of your deleted stuff were stored somewhere secure. You could get a soft copy of all your stuff, yes Facebook has a feature for this too.
Follow the article below, we'll show you lots of new features which you are unaware of till date.
#1 Donate to NGOs or Relief Funds
With this feature, you could donate to all registered nonprofit organizations through their official Facebook page. At this moment a total of 19 organizations including American Red Cross, Malaria No more, American Cancer Society and World Wildlife Fund among others. This feature has made donating to their cause more accessible, easier and hassle free. To make a donation to the respective charities, you just have to visit their Facebook page and click on the option Donate Now in the drop down menu over the cover photo.
Just simple put fill up your payment information and donation amount and then click Donate. Your work is done for good. Additionally, you can opt in for donating the amount as a one-time payment or choose the recurring option. And yes rest assured 100% of your donations will go to the choice of your non-profit organization.
#2 Retrieve Deleted Content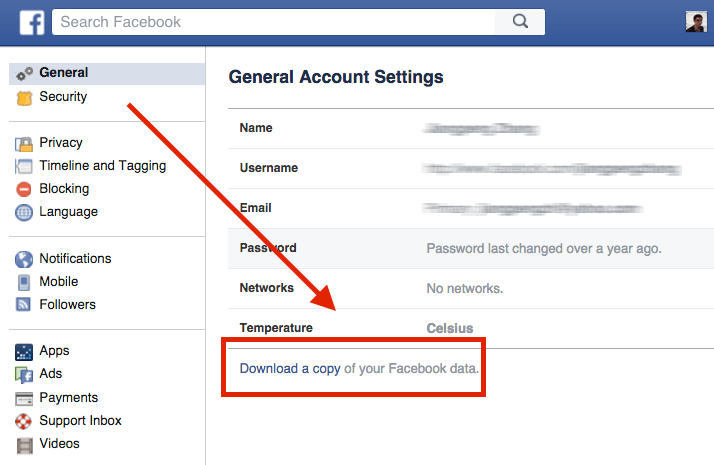 So, have you ever regret deleting certain thing from facebook and would give anything to get them back? Well with this feature you definitely can.
Just go to your Facebook Settings page and click on the option "Download a copy of your Facebook data".'
Then click on the "Start My Archive" and confirm your Facebook password for authenticity. And after that click on Submit button. As a confirmation, a new pop up box will appear on your screen. Click on "Start My Archive" again. Wait for a while and then check your registered mail, there you will find a link to download all your data. But to download, again you have to authenticate yourself first to prevent misuse of the download link.
#3 Save Now Option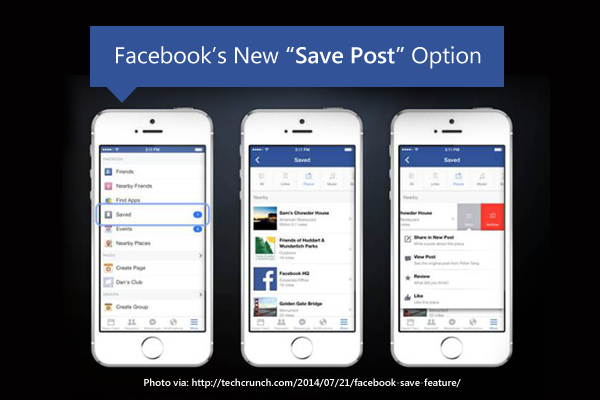 For personals who are busy for the better part of the day, this is indeed a must have an option. Every time someone opens his/her account they get flooded by new posts from all of their friends and the pages they have shown interest in. Sometimes you want to read them by due to having no time to read them all, chances are you're going to ignore most of them. But 'Save' feature let the user save posts for later viewing at their convenience. It is placed under the drop-down button on the right side of each post.
Users could save all kinds of posts including TV, Music, shared posts, links, and even normal pictures. All those saved items could be found under "Saved" option on the left side of the timeline/ newsfeed.
#4 Sync Facebook and Google Calendar
If you are one of those people who love to use Google Calendar to maintain a detailed schedule all your important events. If sometimes you want to merge facebook events into in all google calendar, then this is the perfect option for you. Follow these steps to synchronize your Google Calendar with Facebook Calendar.
At first, go to the options Facebook Event. Then at the bottom corner of the page, you will find links to upcoming birthdays and vents. Copy the "Copy Link Address" or "Copy Link Location", and then go to Google Calendar. You will find an "Other Calendars" on the left-hand menu. Click the dropdown menu button and select the "Add by URL" option.
Afterwards simply paste the link there and click "Add Calendar". After a while your whole Facebook calendar will get imported to the Google calendar.
#5 Turn your Facebook profile into a Celebrity Page
I can bet that most of your friends didn't know about this option. Yes, you could indeed turn your personal profile into a verified page. By virtue of this option, you can keep fans, followers, and friends separate. And the best thing is that you don't have to build a page from the scratch.
To avail this option, first, go to Profile to Page Migration. Choose a choice of your category for your page. On the next page select a subcategory and fill up the required details about your page. Then click on Get started and follow the instructions provided. But before you do so, don't forget to download all your facebook data backup, since this process is permanent and couldn't be reverted back once initiated.
So, let us know in the comments below that, which feature you found most useful. Also mention any other impressive less known features of Facebook.